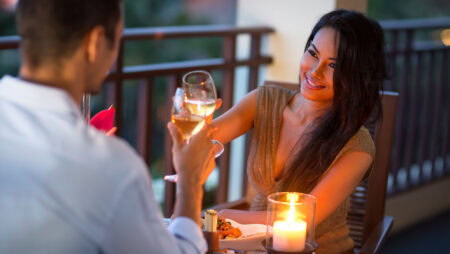 How long have you and your MILF been dating? You probably want to show her how much she means to you, which is why you're thinking of a fancy date during the holidays. Ensuring it's up to her standards might be hard, though. She's an older, more sophisticated woman. That's why we discussed everything you need to consider before choosing a place to eat.
Is It Crowded?
No one likes crowded restaurants. The MILF you're dating may not either. Unfortunately, restaurants are packed during the holidays – this is the time you're supposed to be with loved ones after all. The internet would help you find an eatery that isn't too full.
You can also find hidden gems by speaking to the people in your life. Small restaurants don't advertise as much.
Don't be afraid to look for spots out of town. Not only would the trip make the night more special, but there could be cafes, bistros, and bars that are much better than anything situated close to where you live.
How's the Atmosphere?
Being older, MILFs are usually more sophisticated than women your age. They'll enjoy a spot that is elegant and refined. You won't be able to find one if you're not willing to splurge.
Christmas décor can be done a thousand ways. Hopefully, the establishment you're interested in does not have gaudy decor. Visit their social media sites. They'd likely have pictures and videos of their decorations. Smooth Christmas music would seal the deal. More fancy restaurants have bands playing these.
Does She Like the Food?
Like a bottle of fine wine, her tastes will have developed and matured. Hopefully, you know which foods she's a fan of. This might be hard if you've met each other recently on a site like meet-a-milf.com. Don't be shy to ask. It's better ruining a surprise than you taking her somewhere she won't enjoy.
If there's a range of restaurants offering the type of food she wants, reviews would help you decide.
As it's the holidays, some spots specifically create menus for the season. They'll offer the best experience.
How Are Their Drinks?
The holidays aren't just a good time to spend with loved ones – it's also time for drinking. Restaurants know this and they go all out with their drink selection. Although the option you're interested in might have great food, its bar may be lacking. MILFs are all about having a good time, so there's no way this would cut it.
Speaking of drinks, we just have to talk about prices. Alcohol can cost a lot of money. Don't be afraid to look around, making note of how much cocktails cost per spot.
Can You Dance?
Having a good time during the holidays is easy. There's music everywhere. Some establishments may not just offer good food, but dancing too.
Of course, the dance floor wouldn't be open at all times. They tend to be open during the latter part of the night, so plan your date accordingly.
Get Her A Present
Whether she's a MILF or not, all ladies love being spoiled. Don't just get her something on Christmas day, make her feel special, and get her something on your date as well. As it's not her actual Christmas present, you don't have to splurge.
What would suffice? Think of a memory that the two of you have shared. A gift that would remind her of it like a snow-globe would be great.
Don't just give it to her, though. Surprise her with it at the end of the night.
Wear Something Nice
You're going on a fancy night out. You would look out of place if you don't dress appropriately. The vibe of the night would also be ruined.
How formally you'll have to dress would depend on the place you're visiting of course.
Final Thoughts
MILFs are sophisticated women, which is why they'll enjoy it if you take them to higher-end spots. The quality of alcohol and food present would affect how your date goes. It'll be amazing if dancing was available, too. Make sure you go to the restaurant at the right time. Their dance-floors open at very specific times.
Music would be the best with a live band, of course. Thankfully, they're popular with restaurants during the holidays.